Excellence in craftsmanship means that any restoration of a frame is invisible.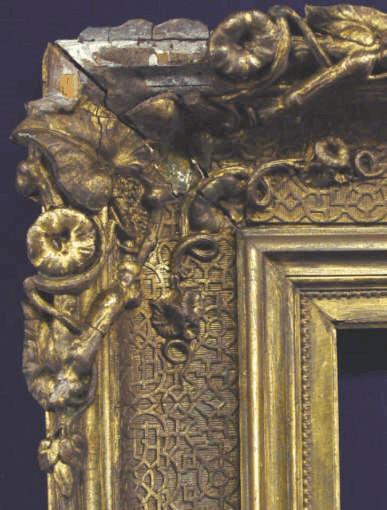 Skilled carvers, joiners and gilders can restore antique frames regardless of period and style. They use methods that incorporate traditional frame-making skills and modern reversible finishes. They can correct all surface and structural problems so that they cannot be seen.
Antique frame restoration and conservation treatments include stabilizing the joinery at the corners and if necessary changing the size of a frame to match the size of a picture. Our artisans also treat flaking gesso and gesso losses on frames and are adept at replacing missing surface decoration with either hand-carved gilt-wood or newly cast composition ornaments identical to the originals.
When it comes to finishing, we take great care to ensure that the color and karat of any newly applied gold leaf is harmonious with the original gilding prior to duplicating the antique patina. Our goal as we take each step in restoring a frame is to maintain its historical integrity. This is accomplished while maintaining the highest standards of conservation.
Restoration Of Antique Mirror