From his quiet spot amongst the shadows, Robert Murray captures the light…
With an insatiable appetite for learning, Robert has exploring the world through his artwork since he was a child. His career has followed a path through multiple artistic expressions including architectural and technical illustration, award-winning graphic design and illustration, but it's in his paintings that we catch a glimpse of the curious boy from south London, Ontario.
As a boy, Robert loved to study the drawings in Popular Mechanics and spend time watching his Grandfather at work, building wagons for Silverwood's Dairy. The puzzle and intricacy of how things worked appealed to him and this curiosity set the stage for a life spent observing and learning from every experience.
He also loved exploring the back laneways in town; places of mystery off the beaten path, a world unto themselves where a boy could imagine endless adventures and explore the hidden treasures of the wild urban pockets.
Then, on a school trip to what is now the AGO, Robert saw an impressionist painting exhibition and was mesmerized. This was before television and media filled our homes and Robert shares that he literally felt stunned by the remarkable colours he saw and the way the light seemed to be emanating from the canvases themselves. He found himself compelled to begin capturing the beauty he saw around him with that same force and light. (read more)
Price Range $750 - $5000 Canadian
RD Murray, Instructor Faculty Member.
We are very pleased to have work with Robert for many years and to have him part of our Instructor Faculty. For upcoming art workshops and lessons please see the Lessons section of our website. Classes fill up quickly so be sure to be on the special email list.
RD Murray Photos and More Information
RD Murray Available Artwork
RD Murray Oringinal Paintings
RD Murray Miniature / Small Artwork
RD Murray Commission Examples
RD Murray News and Information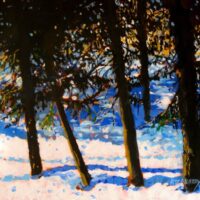 Winter Sparkle story board FINISHED SCRIPT/STORY BOARD Basic acrylic painting. A landscape acrylic painting showing the steps from ...
Read More

→
RD Murray - Studio Photo From his quiet spot amongst the shadows, Robert Murray captures the light… With ...
Read More

→